Email marketing software provides email automation tools that help with subscription management. These email services make the process of increasing repeat website traffic easier.
The world seems to be glued to their devices connected to the internet. There are billions of websites on the internet. Many internet users are guilty of visiting a website and never returning. If you have a business online, you do not want this to happen to your website. You want people to come back to your site. Thus, getting people to subscribe is an essential online marketing strategy.
What is email marketing software? Email marketing software tools help you get email subscribers, create email layouts and distribute emails to subscribers.
Consider the benefits of email marketing software. When you advertise and promote your business online, look beyond one-time customers. While getting paid customers increases your profits, you also want subscribers. You want to build an audience that forms a community. You want to have loyal followers of your brand. So, you promote and advertise your brand. An email marketing strategy accompanies digital advertising.
List of Email Marketing Software
01. ConvertKit:
best for small businesses & enterprise
Generating an email list is an important online marketing strategy for businesses. With an email list, you can grow your audience and income. You can use ConvertKit to connect with your audience and receive feedback on how they interact with your brand. Not all businesses have a website. But that should not stop you from growing an email list. If your business does not have a website instead you can build a landing page. ConvertKit plan allows you to build and host a landing page. Use your landing page to capture subscriptions.
ConvertKit includes tools for easy integration across various platforms. This means you can integrate the software into over 80 platforms. Plus you can also create market-segmented email lists. ConvertKit pricing only includes one paid plan at $29.00 per month. For that price, you will get all ConvertKit's email automation tools. But there is also a free email marketing service plan that is decent.
What is the best software for email marketing? There are many quality email marketing services to choose from. Millions of companies, online marketers, and email strategists trust ConvertKit.
02. GetResponse
best email marketing software with landing pages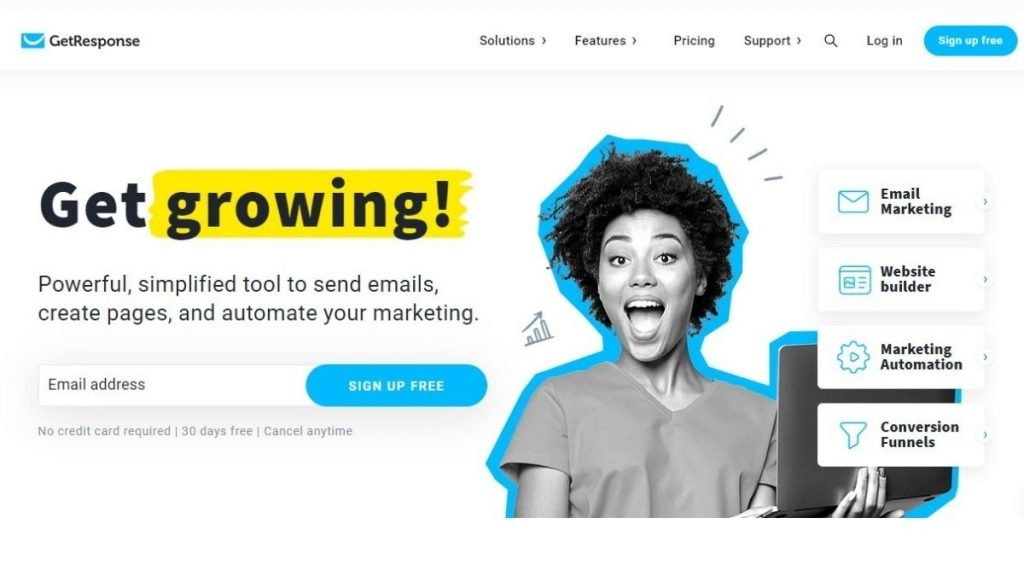 GetResponse features make it a renowned marketing automation platform. Consider the benefits of email marketing. It is to increase sales, and profits, and engage customers. GetResponse is an all-in-one online marketing platform. It is an automation tool filled with online marketing solutions. Together they will help grow your business. GetResponse provides an email management solution to increase traffic. An email marketing campaign must have a conversion funnel that works. You can create modern and professional email campaigns. You can also craft professional lead pages with GetResponse.
This email marketing service includes tools to help get leads via webinar marketing. This is a very interesting feature. You have the resources to set up a world-class webinar and connect with your audience anywhere in the world. Forms, surveys, and e-commerce functionalities are all features that can be integrated with GetResponse. Choose from hundreds of mobile-responsive email templates. You can create marketing templates with the drag-and-drop editor. GetResponse pricing starts at $15.00. It includes email marketing auto-response, unlimited landing pages, and automation templates.
03. MailChimp
best free email marketing software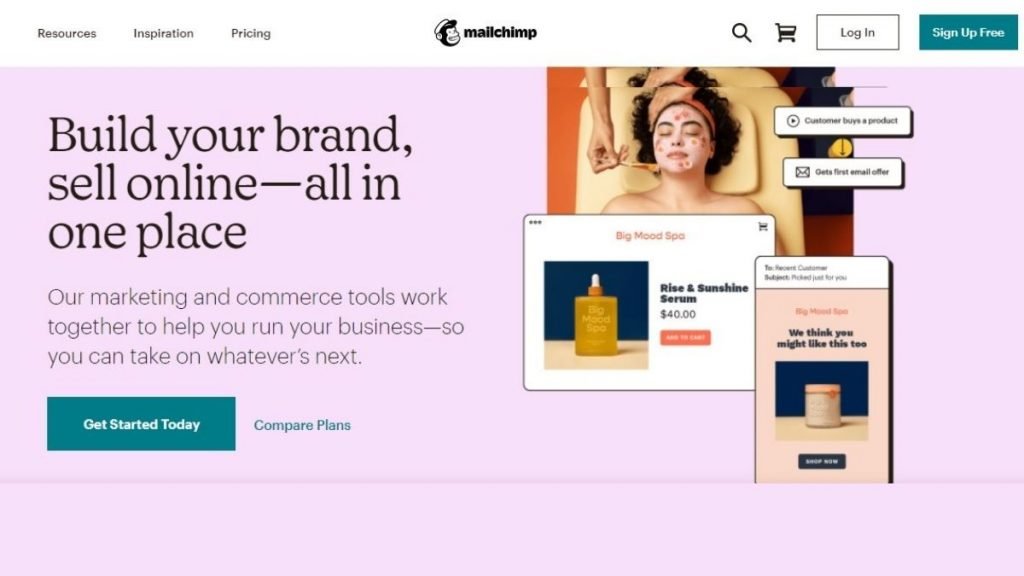 Email marketing tools like Mailchimp help to manage email subscribers. You can dedicate Mailchimp to startups. This is because Mailchimp's freemium plan is great for small businesses and startups. Its free plan allows users 2000 subscribers and many other features. Understandably, MailChimp is one of the highest-rated email marketing software. It assists millions of users in various niches to build and manage email subscribers. Find and engage your audience, while building the popularity of your brand. You can create email templates, landing pages, social media campaigns, and more. You can also manage and deliver your marketing campaigns and receive analytical results.
Use email marketing templates to create campaigns to attract the reader's attention. You can create professional campaigns to not only generate leads but also includes A/B testing, surveys, and more. For email automation, Mailchimp allows you to set up behavior-based automation and segmentation. You can monitor behavior targeting; see purchase behavior and campaign engagement. If you would like to upgrade your free email marketing plan, Mailchimp pricing starts at $9.99 a month.
04. Aweber
best e-commerce email marketing software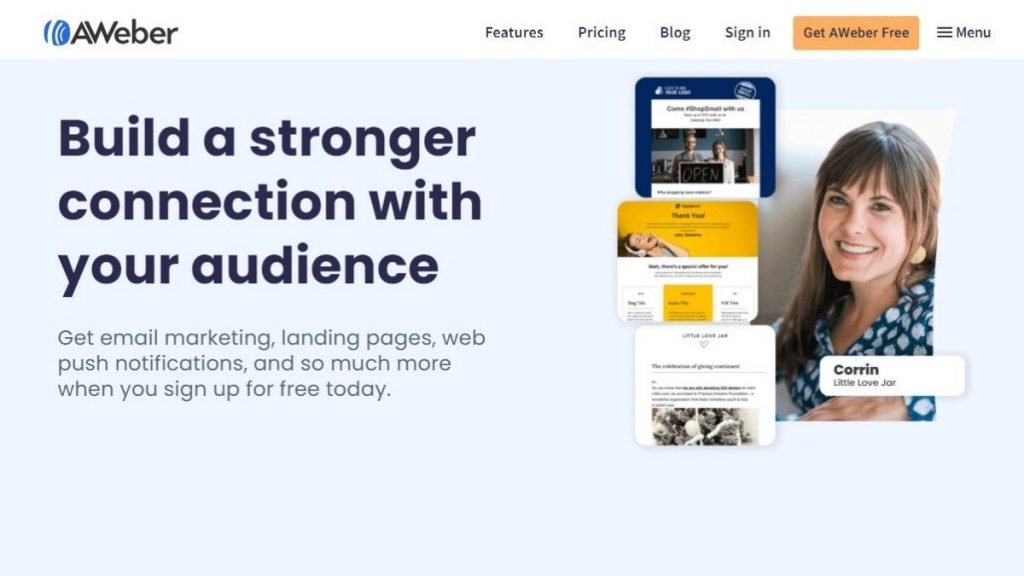 You do not have to be an email marketing expert to use Aweber. With Aweber email automation you can create responsive emails. Send beautiful emails to your subscribers and foster engagements. Automation campaigns help you deliver emails that are relevant to the receiver. Set up an effective marketing funnel using Aweber's email automation tools feature. Trigger campaigns based on the links clicked by subscribers or emails they open. 
Monitor your campaigns in Aweber's dashboard. Get marketing insights and performance reports. Use these reports as an indicator of what you must adjust or remove from the marketing strategy. Aweber's interface also provides for simple subscriber management and split testing. You can also quickly segment your email list and target the right emails based on user interests. Aweber is an email marketing software that integrates well. Use it with Salesforce, WordPress, Woocomerce, Shopify, Etsy, and many more platforms. Aweber pricing starts at $19 per month. You can try AWeber free for 30 Days. 
05. iContact
best for marketing automation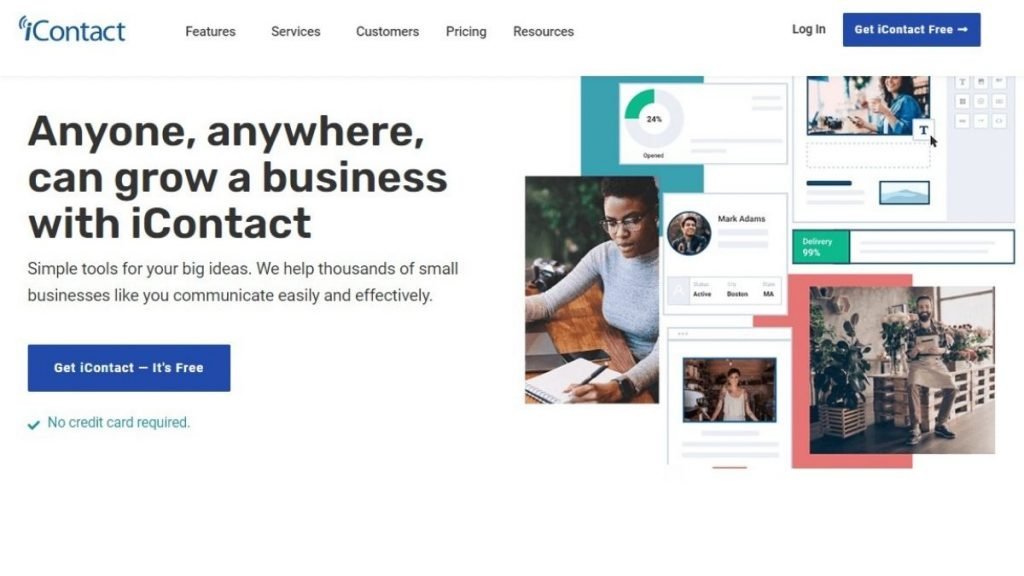 You must include the best practices of email marketing. iContact is there to help boost your digital advertising strategy. You can write emails with iContact. There are also embedded in the service intuitive tools to create great email marketing campaigns. The drag-and-drop editor gives you the ability to create email layouts without knowing how to code. You can create eye-catching designs. Captivating layouts will invite subscribers to keep reading your message.
There are many benefits of email automation. Email automation gives you the ability to create campaigns ideal for individual users. It reduces your workload and helps to build brand awareness strategically. iContact allows you to create email campaigns that would be suitable for subscribers. Monitor your email marketing strategy with iContact A/B testing. Use the performance reports to track what marketing campaigns are converting. You will see what works and what does not then adapt your strategy to suit your customers. iContact pricing starts at $30.60. 
06. Constant Contact
best for small agencies & non-profits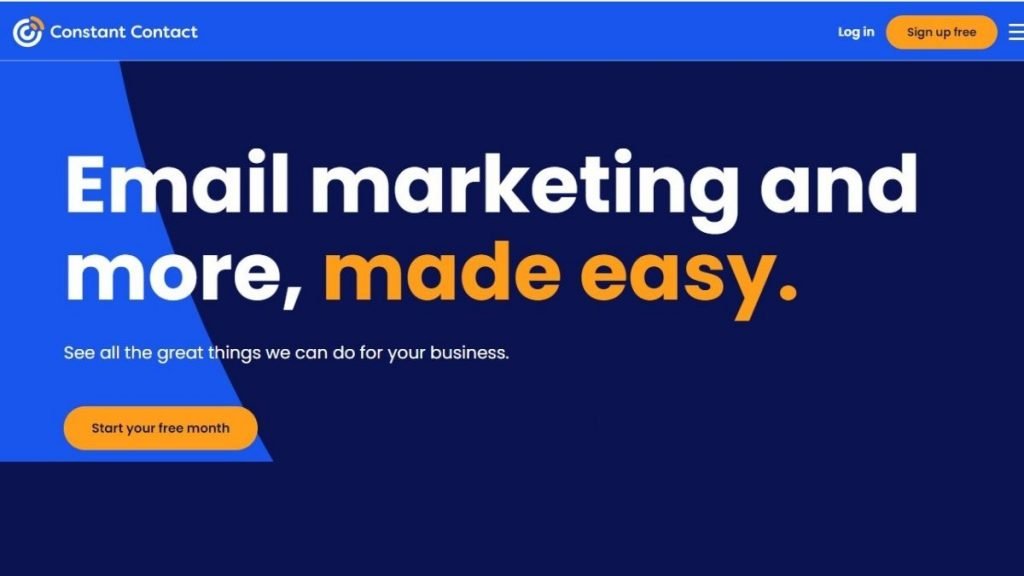 Some people wonder "Is email marketing still relevant". But online marketing experts will tell you that this strategy is ideal. Use it to boost sales and build stronger customer relationships. The email marketing software, Constant Contact provides all the features you need to manage subscribers. Add new customer prospects with Constant Contact. You can channel subscribers from your website and other platforms such as Facebook. Constant Contact allows you to upload contacts from other sources. You will also be able to monitor, un-subscribers, and bounce rates. You will even be able to determine which subscriber email addresses are inactive.
Don't just email your audience. See what they are doing with your emails in real time. Track whether they are opening or sharing emails. Create targeted lists so you can send emails that would interest-specific persons. More Constant Contact features include automation, donation management, dynamic signup forms, surveys, and polls. You can also manage events with Event Brite integration. Constant Contact email marketing tool is an eligible contender for eCommerce email marketing. Constant Contact pricing starts at $20 a month, but the first month is free.
07. SendinBlue
best for transactional emails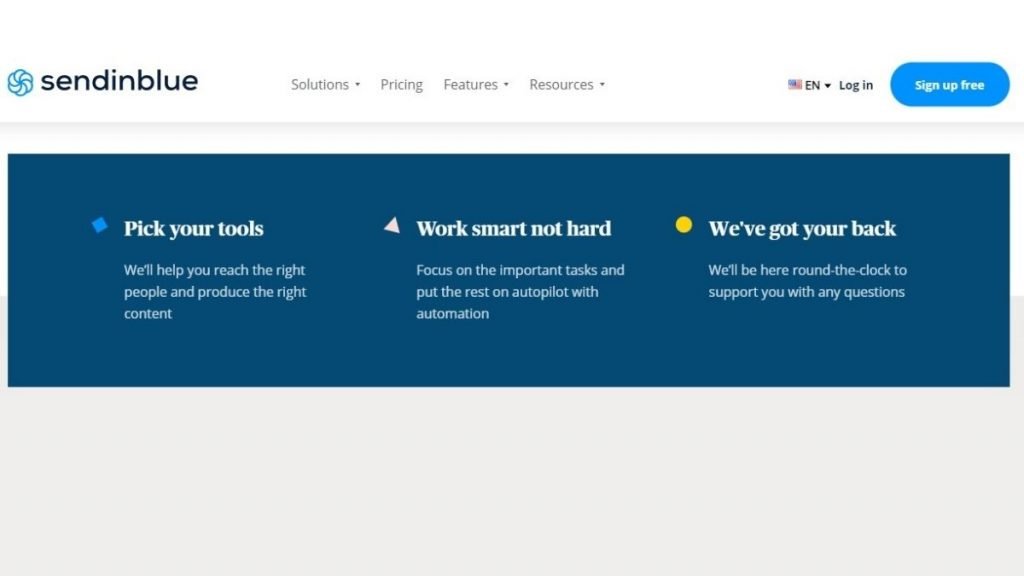 Sendinblue features digital marketing tools to build stronger customer relationships. You can grow an audience, generate leads, and connect with customers. The email application, Sendinblue has tools for virtual communication. This empowers you with the ability to track customer interactions. You can also manage customer relationships with CRM tools. Communicate with customers using SMS marketing features and online web chat tools. These communication tools help you connect with prospects in real-time.
Sendinblue email marketing software includes sign-up forms and landing pages. You will also be able to boost performance through marketing automation. Target your audience via automated segmented messages. You can also re-target customer prospects via Facebook and website ads. A great feature of Sendinblue is the ability to send transactional emails. You can set up focused, branded, and reliable transaction emails. Sendinblue email marketing service gives you a mobile-friendly email designer. But for quicker designs use the readily available email template library. Sendinblue pricing starts at $25.00 per month. But there is also a free plan that allows unlimited contacts and 300 emails per day.
08. ActiveCampaign
best for managed email marketing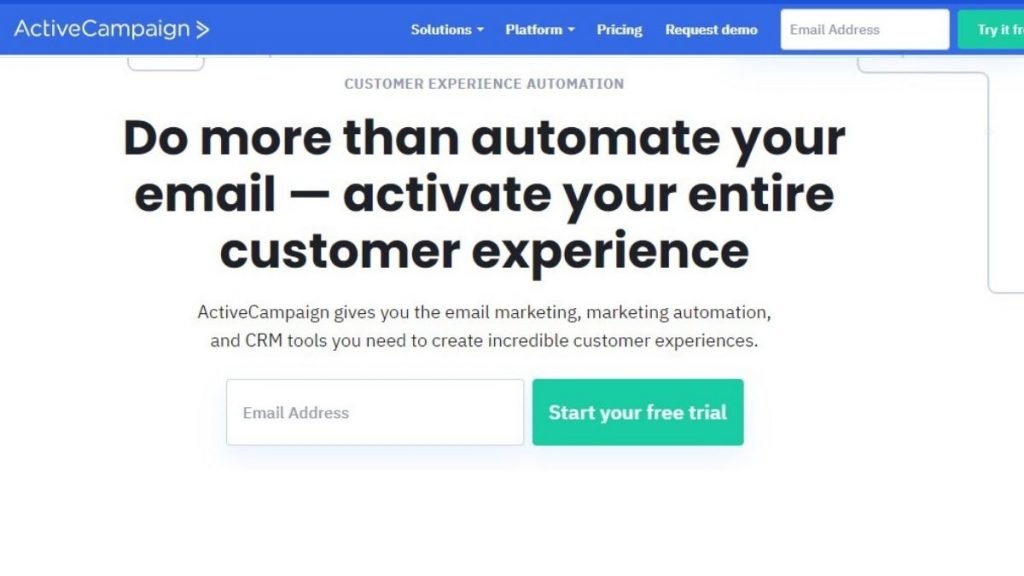 ActiveCampaign is a business-oriented email marketing platform. It helps you to streamline customer experience automation techniques. Use CRM to keep track of leads. With the sales CRM features, you can coordinate your sales process and team. Besides this, you can segment your audience based on their interest and activities. Once you create market segments, you can send the right message to your audience at a time that suits them. ActiveCampaign software is intuitive and can create dynamic content.
ActiveCampaign plans as an email marketing software is top rated. It helps you to manage contact and sales and convert more customers. You can deliver targeted messages and set up automated follow-ups. You can also do split testing on your email campaigns to assess what converts. ActiveCampaign Conversations allows you to have real-time communication with leads. You can set up Live chat, and email to connect directly to your customers. ActiveCampaign pricing starts at $9 per month. However, ActiveCampaign Conversations pricing is a separate $9 per month.
09. Hubspot
best B2B marketing service
Important to internet marketing are strategies that help to generate sales. This is easier when using email automation tools. You need an email marketing platform that helps you to capture and convert leads. But you must also be able to understand and engage your leads. Hubspot products offer a platform for online marketing resources to help businesses. They're all-in-one inbound marketing software includes email marketing products. You can use them to create email templates and run A/B tests to monitor the open rate average.
Hubspot email marketing allows you to personalize and automate emails. Let your user decide what is relevant to them with marketing automation. Then tailor your customers' behavior to deliver relevant content to them. Hubspot CRM includes free tools to help you manage contacts. Not only are you able to reach leads, but you can manage them too. With proper lead management, you can monitor your interactions with customers. In addition to this, include proper analytical measures, using Hubspot. Hubspot analytics functions enable you to gain insight. You can keep up with the interactions between your brand and customer prospects. Final note, Hubspot is by far the best email marketing software for large businesses. Hubspot pricing starts at $30 a month.
10. Campaign Monitor
best for email marketing and lead generation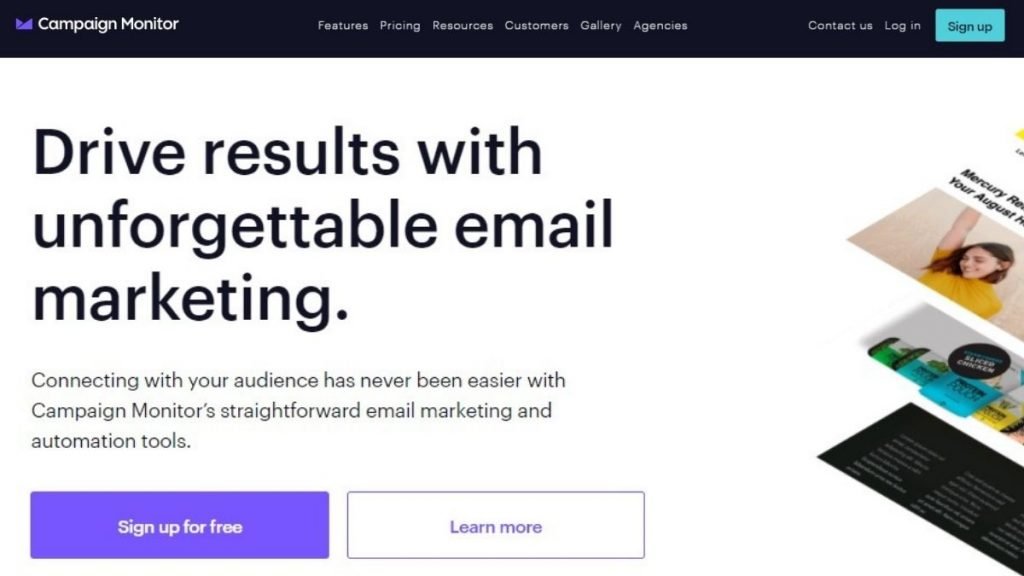 As a business owner, you must set up an automated email marketing campaign. With good email marketing, you can turn leads into loyal customers. If you have an online store capture leads through subscriptions. This will help your eCommerce strategy. Campaign Monitor drives lead with email marketing and automation. Integrate Campaign Monitor on your eCommerce platform to help your online store grow. The way forward is to get started with a professionally designed email template. Edit it to create a marketing offer, announcement, or newsletter.
Next, automate the email to send it out conveniently to your customers. Further, create market segments to personalize content for customers. This technique helps to drive customer engagement and add value to your brand. You can also see what works with A/B testing. Split test various headlines, email template layouts, and messages. A/B testing helps you find email strategies that work best. Also, you can integrate Campaign Monitor with other applications. Connect e-commerce platforms or websites and deliver transactional emails also. Campaign Monitor pricing starts at $9 per month.
Closing: How does email marketing software work?
Email marketing software applications allow you to manage email lists. Such email services, have features for you to put a subscription form on your website. When visitors go to your website, they enter their email addresses in your email form. With email marketing services, you capture and store those email addresses. You also create email marketing templates and distribute emails to subscribers. You can share deals and information about your business. Email marketing software also has email automation tools to make email management easier. As well as segmentation, A/B split testing, and analytical features. This is a list of the best email marketing software for email automation.
Email Marketing Software Comparison